There is nothing more daunting than having to fix a roof. Roof replacement can cost anywhere between $300 and $5,000 or more. However, there are some financing solutions available even if you don't have the financial means to fix your roof. The most difficult element is making the determination if you can afford the repair.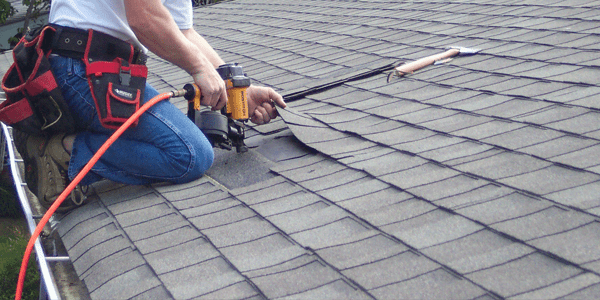 Homeowners or Roofing Insurance
Do you need to repair a roof that is in good condition? Please check your insurance policies to make sure this is covered.
For Roofing Insurance, there are a few options: product and installation insurance. The expense of a new roof might be defrayed if the damage was caused by a faulty roofing product.
Should a mistake be made during the installation of the roof, installation insurance will cover the costs. There should be insurance provided by roofers who are all three of these things. In this case, it's possible that the company who installed your roof may be called to seek repairs.
Homeowner's insurance should pay for the cost of repairing a storm- or accident-damaged roof. Trees, storms, fires, high winds, and other natural disasters can all cause damage to roofs. In the event that anything similar occurs to you, your homes insurance can provide assistance.
The process of gathering evidence, estimating damages, and awarding reimbursement varies greatly depending on the insurance carrier.
Check with your insurance provider before anything else. After that, you may start looking for other sources of finance.
Home Equity Loan or Line of Credit
Taking equity from your home to pay for roof repairs is a rare exception.
Home equity loans or lines of credit may be a possibility in this circumstance, depending on your financial condition.
Because they are secured by the equity in your house, both of these loans are referred to as second or supplementary mortgages.
These loans have set interest rates and lump sums as their key features. Interest rates on home equity lines of credit are regularly subject to change.
If you're thinking about it, set up an appointment with a financial advisor. A home equity line of credit or a home equity loan will not be available to everyone.
These are your best alternatives if you have good credit, a consistent salary, and a house that is worth more than you owe on it.
An appraised home's worth may be no more than 80 to 90 percent of the total loan amount.
Get an FHA Title 1 Property Improvement Loan
If you are unable to obtain a home equity loan, you may be eligible to obtain a Title 1 FHA loan. Lenders certified by the US Department of Housing and Urban Development (HUD) underwrite all of these mortgages.
An FHA Title 1 unsecured loan may be obtained with a down payment of less than $7,500; a secured loan can be obtained with a down payment of at least $7,500.
HUD loans are provided for rehabilitation, repair, and general improvement of the property as long as the repairs improve or preserve the property's liveability or utility. To put it simply, repairing the roof is both an upgrade and protection for the property…
But will you qualify? Here are the typical HUD loan requirements:
Be the homeowner or have a long-term lease on it
Be in a home that was built and occupied for over 90 days
Have a debt-to-income ratio of 45% or less
Not be in default or delinquency for another federally backed loan
There is no need for you to have a specific credit score, income, or equity in your property if you meet these basic standards.
Try an FHA 203(k) Loan
There is an FHA 203(k) loan that is backed by HUD, and you may apply for one. This form of financing is provided by the government for construction projects. Repair, improve, or renovate your house with the help of these products.
There are two FHA 203k loans available:
Limited 203(k) mortgage – to finance up to $35,000 into your mortgage for repairs or improvements but not major structural repairs
203(k) mortgage – work must cost at least $35,0000 with loan limits that vary depending on the area and currently range from $420,680 to $970,800
Loans made under this program have a few more requirements. In addition to a down payment, you'll need a credit score of at least 500 to qualify for this loan.
Take out a Personal Loan
Some people choose government loans over traditional bank loans in order to receive personal loans and lines of credit from a private source.
The money you need for home repairs is readily available from banks, credit unions, and private lenders.
If you go online, you may quickly find a variety of possibilities for roofing or home repair loans. There are also private lenders who offer bad-credit roofing loans. Many of these loans, however, have exorbitant interest rates.
Check with your bank or credit union to see if they can match or beat any internet prices you discover.
Use Your Credit Cards
Using a personal credit card to pay for a roof repair should only be a last choice. Because repair expenditures are minimal, you may be able to get a zero percent interest rate on your loan, which may be a better option for you.
Before making a decision like this, make sure you've looked into all of your financial possibilities. Unlike other forms of house financing, using a credit card has no tax benefits.
Let's Talk About Your Options
A new roof may be in order, but you're unsure about the cost. Please get in touch with us if you'd want to talk about this further.
We've been repairing and installing roofs in the neighborhood for more than two decades. Please contact us if you need assistance with insurance or financing. As at Midwest roof and solar we provide in-house financing for homeowners insurance deposit and more.
Let us show you how to get the greatest deal on home repair financing.
It's also possible that we may provide you with an estimate for the roof repair of your banking institution.
Send us a message and we'll be right with you.