As the days get shorter and the sun sets earlier here in Minneapolis there's nothing nicer than driving up to your home covered in lights and decorations. However, decorating without taking safety precautions can damage your roof or gutters and cause you injury. Midwest Roof and Solar put together this outdoor holiday decorating guide to keep you and your house safe.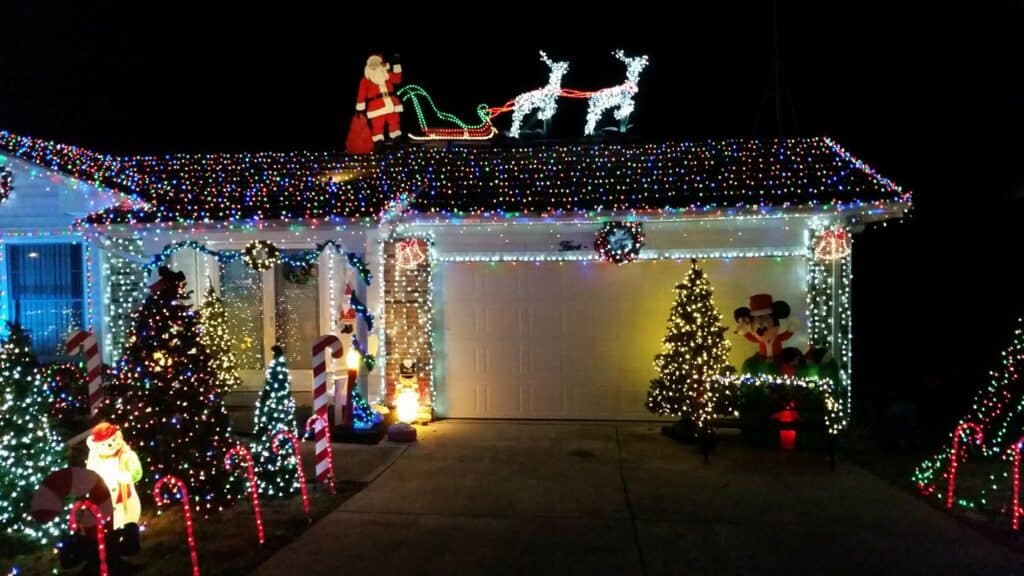 Checking Roof and Gutters for Damage
Decorations can't safely be attached to your roof or gutters if there is significant damage. Hanging decorations on damaged roofs or gutters could cause more damage or could cause serious injury when decorating. Before you head up a ladder, please read this ladder safety blog we put together for homeowners to stay safe while working with ladders. Working during daylight hours is also the safest practice to be sure you can see what you're doing and damage will be easier to spot.
Signs of Roof Damage
When looking for roof damage, what you want to check for are any surfaces of your roof that aren't uniform. Are any shingles missing, do any shingles look damaged? Are there any patches or your roof that stand out, either in color or level? A healthy roof is often uniform in appearance, any sections that stand out could be a sign of damage. If you see any possible damage, do not go onto your roof, call a professional to do an inspection to see if any repairs need to be made.
Signs of Gutter Damage
If you notice any part of your gutters has bowed in shape, this could be a sign of gutter damage. Do not prop your ladder against any misshapen gutters. If your gutters have any creases, depressions, or holes, this is also a sign of gutter damage. Call a professional to do an inspection of your gutters or repair them before hanging any decorations up. Any place along your gutters where leaves and debris are prevented from traveling along to the downspout could cause water damage from your home's foundation to the roof.
If your roof and gutters are free of any visible damage, be sure all your other winter prep is done, like cleaning out your gutters before winter.
Preparing your Holiday Decorations
Take inventory of the holiday decorations you want to use along with any tools you'll need for the project. Inspect your ladder for any damage or dents in any of the ladder rungs.
Check each strand of lights for any damage or breaks in the wires or bulbs. Make sure you plug in each strand on the ground to make sure the lights work. Always be sure to use indoor lights indoors and outdoor lights outdoors only. While on the ground plan out your holiday decorating design and make sure you have enough lights for your project and to reach the outdoor electric outlet. If you need an extension cord to reach the outlet, use the proper length and type of extension cord, never connect multiple cords and only use a cord made for outdoor use.
Holiday Light Fire Prevention Steps:
Only use outdoor lights outdoors and indoor lights indoors, they are manufactured for different conditions
Check your light strands for any damage to wires and bulbs, replace any bulbs if needed. Never use lights with frayed cords.
Be aware of the wattage needed for the lights you are using, read the warnings on the lights to ensure you never string too many strands together or put too many in one outlet.
Never connect two or more extension cords together, it is safest to just use the proper length extension cord.
Only put outdoor use extension cords outside, never try to use an indoor extension cord for an outdoor project.
Holiday Decorating Begins
After all the preparations, you are finally ready to start decorating. Place your ladder on sturdy even ground and do not climb a ladder with tools in your hands, place them in a tool belt, on an attached ladder container, or have someone to help you with the tools. Do not hang lights while they are plugged in, this can create a trip hazard.
When attaching lights and other decorations to a roof, roofline, or gutters, it is extremely important to never create punctures or dents. Any damage to your roof or gutters could cause water seepage into your roof or foundation. Using temporary shingle clips or gutter clips attaches lights to your roof or gutters without damage. Shingle and gutter clips come in different varieties for any type of outdoor light available. Shingle and Gutter clips are meant to be temporary, they are not meant to hold up lights year after year.
Decorating with Inflatable or Plastic Holiday Decorations
Whether you're partial to those vintage plastic roof displays or the more modern inflatable decorations, both need to be fastened properly. While inflatable decorations are more likely to get blown away by the wind, it is important to think of weighing down both inflatable and plastic decorations. What you tether the decorations to needs to be fully secure with no risk of flying off with a brisk wind. Also be sure that all decorations and methods used to secure them are clear from any fire or electric hazards, such as powerlines or chimneys.
When wind picks up an inflatable decoration, it can act like an unstable fan blade and cause some severe damage if not tied down properly. Some Inflatable decorations come with sturdy bases that can help with anchoring and weighing down the decorations, just be sure that any base is enough for Minneapolis wind gusts.
With these tips you are sure to stay safe and prevent any damage to your home while decorating your home for the holidays.