There's no denying that concrete isn't a favorite roofing material among homeowners today. That said, it offers unique benefits that you simply can't get with other Minneapolis roofing systems. Here, we'll discuss concrete roofing and the various advantages that it offers. If you think that concrete roofing could work for you, our team of expert roofing can provide additional information to help you make an informed choice.
What is Concrete Roofing?
A concrete roofing system consists of a large piece of concrete over the top of your home. Concrete roofing is typically many inches thick, providing ample protection against the elements. Generally, concrete is used in flat roofing systems, but it's also feasible to create a sloped concrete roof. This is a complex roofing project and will require a lot of labor to complete.
Given the sheer weight of concrete, it requires a more extensive installation process than other roofing materials. To start, the crew will need to build a framework. It's crucial to ensure that a concrete roof has ample support so that its weight won't cause damage to your home. The framework may either be turned into a permanent aspect of the completed roof or be removable forms used only during the installation period.
With the framework in place, the concrete can be poured and spread out. Steel bars are typically then positioned to provide support. To achieve the aesthetic that you want from your Minneapolis roofing system, your roofing team can add shingles, tiles, or a finish according to your preferences.
Benefits of Concrete Roofing
Strength
The key benefit provided by concrete roofing is strength. Remarkably, if concrete roofing is installed under the optimal conditions, it can last for over five decades. Many manufacturers even offer a 50-year warranty on concrete roofs. 50 years is a far longer lifespan than many of the popular residential roofing materials used today, like asphalt and metal. Additionally, concrete roofing is highly resistant to damage from insects, as well as rot. If you have a concrete roof installed for your Minneapolis home, you're unlikely to require a roof replacement in your lifetime.
Impact-Resistance
You can avoid roof damage from hailstorms, trees, and other threats with a concrete roof. Concrete is resistant to impact and will endure harsh weather conditions. In addition to hail, snow, and high winds won't be a problem for a concrete roof.
Low Maintenance
Maintenance is inevitable with any type of roof. But, with a concrete roof, you won't have to do much. Since concrete has such a high degree of strength, it won't commonly become damaged. This reduces the overall maintenance that you'll need to do to keep the roof in good condition.
That said, roof inspections are still important when you own a concrete roofing system. During an inspection, your roofer can pinpoint potential problems and help prolong the lifespan of the roofing system. Additionally, dirt, debris, and occasionally mold can still affect concrete roofing. These can be washed off with a pressure washer by a professional to preserve your roof's longevity.
Energy-Efficiency
Concrete is more effective at reflecting heat off of your home. This will help keep your home cooler in the hot summer months. Additionally, since concrete roofing will reduce the amount of heat seeping into your home, it will help regulate your energy bills and prevent excess energy costs.
Cost-Efficiency
While concrete roofing is more expensive than asphalt roofing, it costs less than clay tile roofing. Plus, since it has such a long lifespan, concrete roofing is a smart investment in your home.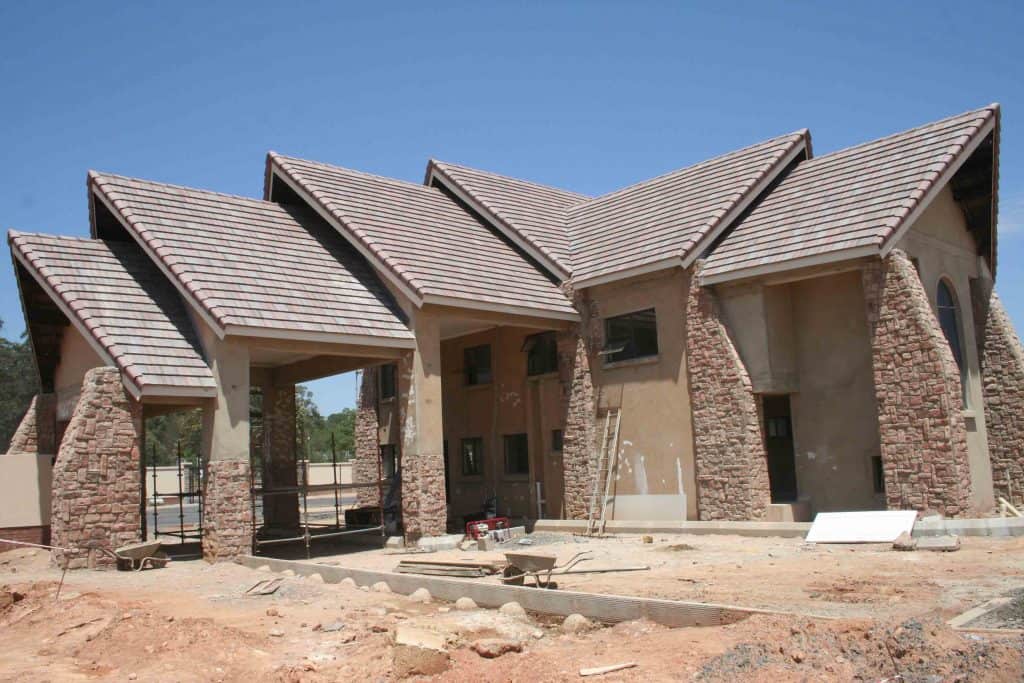 Style Options
As we mentioned earlier, it's possible to achieve many different aesthetics with a concrete roofing system. Your roof impacts your home's curb appeal, and concrete roofing can be an asset to the overall look of your home. Concrete roof tiles come in multiple shapes, sizes, and colors. It can even be made to mimic the appearance of other roofing materials.
Contact Midwest Construction today for more information about residential roofing installation. We provided trusted Minneapolis roofing services to ensure the strength, beauty, and longevity of your Colorado home.